| | |
| --- | --- |
| Posted on February 20, 2017 at 10:45 AM | |
Be Strong, Be Kind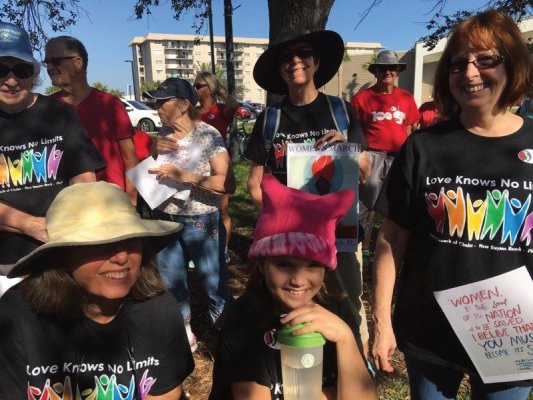 Well, it has been a few weeks since the largest march in the world, The January 21st, 2017 Women's March, drew women and children (and the men and boys who love them) out into the streets. In every corner of the world, in large cities where thousands marched, to tiny villages on every continent, women carried signs professing our belief in a kinder world.  I happened to wake up in Florida that day. As I sipped my morning tea, this marching song came singing itself in my head:
Today's the day I set my mind:
Be Strong, Be Kind!
I'll find a way, a way I'll find,
Be Strong, Be Kind!
    I will not let unkindness win
    So let the friendly acts begin.
    A smile, a wave, a welcome in
    Will help us all be strong!
Doo-doot-doo-doot-doo-doot-doo-doot,
Be kind, be strong….my mind kept singing as we had our breakfast and prepared our signs.
And then, a friend came to join us, bringing her own new song!  A kindred spirit! What a joy!!  Together we walked to the gathering place in our little seaside town, New Smyrna Beach, and joined the UCC (United Church of Christ) contingent.  We wore our UCC shirts that declared, "Love Knows No Limits!"
This town had never seen so many activists in it's park.  We were visitors, but the organizers who lived here said that this surpassed their wildest dreams.  Later that sentiment was echoed across the news channels all over the world.
I taught Vern and Dusty who walked with me, and we sang our mighty little song. Joyce taught her song to the people around her.
Here's a new video to go with the song:
Enjoy the photos and the song from our corner of this precious world filled with caring people!
Categories: Strike a Chord Music!
/