| | |
| --- | --- |
| Posted on December 22, 2015 at 3:01 PM | |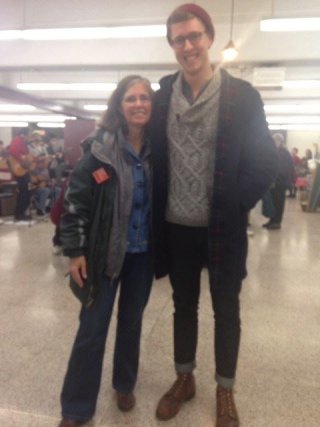 Last Saturday, while having a good time offering some great sing-along kids music at the Amherst Winter Farmer's Market, this giant came walking up to me.  Who......? As a retired kindergarten teacher of 27 years, plus five other years teaching preschool locally, occasionally I find myself in this situation. But I don't usually have to look up quite so high. But the big smile, and the twinkling eyes waiting for that moment of recognition, sang loudly and clearly into my brain: kindergarten graduate! Kindergarten graduate!  Elijah!!
I truly do not know if I would have known this youngster, now YOUNG MAN, if I hadn't bumped into his mother a little while before. Elijah, now a graduate in journalism, working to keep us aware of events in Central and South America.  Oh my gosh!  Am I thrilled to see him! YES!! Am I thrilled every time this happens? Yes.  In fact, there was a similar very tall good-looking guy who watched me singing, even left me a donation, but that we didn't quite say hi that morning since I was busy singing, that I suspect was another long-ago, now grown kindergarten graduate. Emmett? Was that you?  
Wherever you all are out there, please do say hi when we cross paths. It lifts my day immensely. It was not easy to decide to retire, and I LOVE seeing my "little ones" and hearing what you're exploring as you grow.
It is because I loved you so much that I still offer a children's chorus for kids and hope that they too will grow up and surprise me at the farmer's market some day.  Meanwhile, if there are new youngsters out there in the 4-10 year old age group who would like to be in our first upcoming musical version of "Make Way for Ducklings" in the spring, please get in touch.
Life is one awesome trip.  Happy holidays to all. 
Categories: singing
/