Be Strong, Be Kind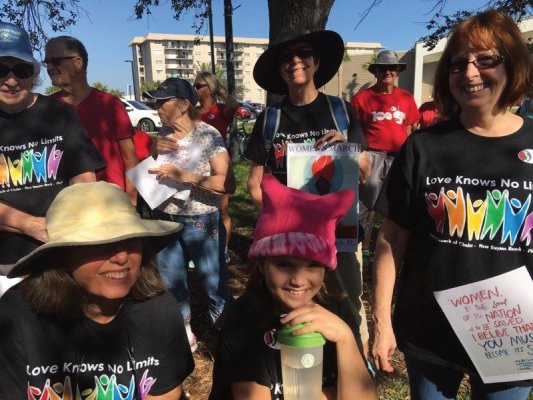 Well, it has been a few weeks since the largest march in the world, The January 21st, 2017 Women's March, drew women and children (and the men and boys who love them) out into the streets. In every corner of the world, in large cities where thousands marched, to tiny villages on every continent, women carried signs professing our belief in a kinder world.  I happened to wake up in Florida that day. As I sipped my morning tea, this marching song came singing itself in my head:
Today's the day I set my mind:
Be Strong, Be Kind!
I'll find a way, a way I'll find,
Be Strong, Be Kind!
    I will not let unkindness win
    So let the friendly acts begin.
    A smile, a wave, a welcome in
    Will help us all be strong!
Doo-doot-doo-doot-doo-doot-doo-doot,
Be kind, be strong….my mind kept singing as we had our breakfast and prepared our signs.
And then, a friend came to join us, bringing her own new song!  A kindred spirit! What a joy!!  Together we walked to the gathering place in our little seaside town, New Smyrna Beach, and joined the UCC (United Church of Christ) contingent.  We wore our UCC shirts that declared, "Love Knows No Limits!"
This town had never seen so many activists in it's park.  We were visitors, but the organizers who lived here said that this surpassed their wildest dreams.  Later that sentiment was echoed across the news channels all over the world.
I taught Vern and Dusty who walked with me, and we sang our mighty little song. Joyce taught her song to the people around her.
Here's a new video to go with the song:
Enjoy the photos and the song from our corner of this precious world filled with caring people!
I am excited to announce the new name for our organization's website that covers projects offered by a trio of singer/songwriters based in western Massachusetts. Dorothy Cresswell, Helen Fortier, and Katie Tolles have made music together and individually for many years and have much to offer.  Some of our projects are The Curious Giraffe Show, Nana's Bananas,  the Happy Valley Children's Chorus, the Healing Circle Singers, and Bridges Coffeehouse and Open Mic (the last two are sponsored and hosted by the
First Congregational Church of Amherst
.)
Recently, as I was reflecting about what brings me the greatest joy, I wrote, "that feeling when I strike a chord and there's this something's-about-to-happen energy. The vibrations reach out and old and young turn their heads, make eye-contact, and smile.
The words "Strike A Chord" jumped out at me and "StrikeAChordMusic.org" was born. PioneerValleySinging.com was our first tagline, started in 2012 when I first retired,  but Strike a Chord Music will get people's attention!
Strike A Chord Music represents three musician/songwriter/performer/songleaders who make up a perfect chord when we sing together. Katie's high voice, Helen's mid-range voice, and Dorothy's lower voice love to blend in harmony. Both musically and personally, we each bring our own "sound" and vibration. With our different life experiences and training and strengths, together we are more. So we three will share the website to bring our individual and joint offerings to the world.
Strike A Chord Music also creates and offers songs that strike a chord in our hearts.  This is not just sing-along music.  Helen's music has lyrics and harmonies that heal.  Dorothy's music has messages and stories of courage and wonder.  Katie's powerful voice and choices of music convey the power of the human spirit. Each of us are activists, doing our part to join with others to "Reach for the Coming Tide" (as one of Helen's songs declares.)
Together and individually, we offer our music to the world, and invite you to sing along. We know that each of us is one voice in a whole world chorus. We like to sing, and will sing alone if necessary, but the joy is truly there when we sing with others.   We'd love to sing with you!
/