Welcome back!  
The Curious Giraffe is on the move!  We will be singing and telling stories at the Amherst Winter Farmer's Market this Saturday from 10 AM to 12 Noon.  You will find us in the Amherst Middle School Cafeteria.  We will surely add some songs of hope and light and encouragement during this darkest time of the year.  Today it is wet and rainy and chilly, but inside it will be dry and "sunny" and warm. 
Hope to see you there!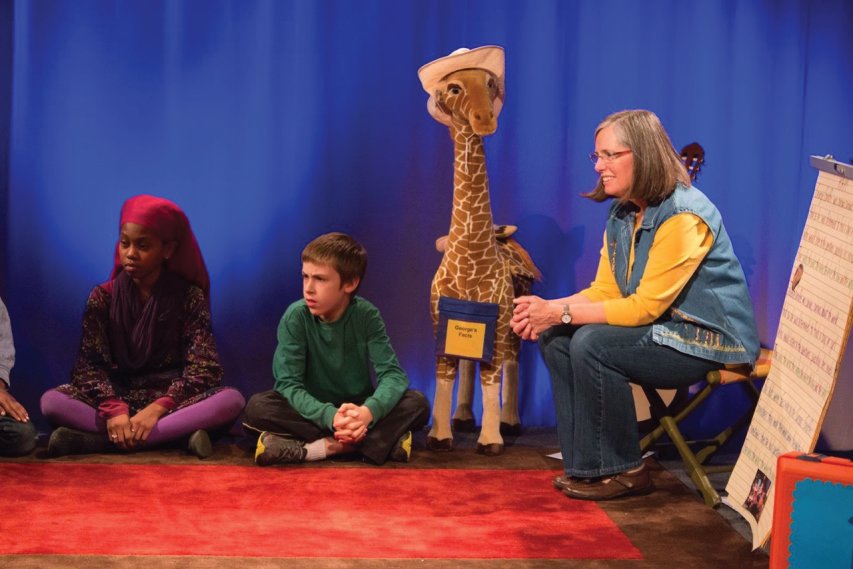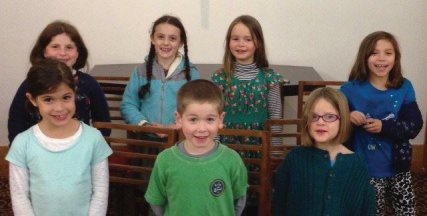 The time has rolled around  for another Happy Valley Children's Chorus Concert!  
December 6th, at 1:30 at the First Congregational Church of Amherst (165 Main Street, Amherst, MA)
Don't these kids just make you smile?  They have been meeting every Monday afternoon for ten weeks, laughing and singing and widening their friendships.   Sunday they will be performing a set of Funny Friendly Songs loaded with surprises and many solos, small groups, and whole group songs.  This season we have kids from 4-9 years old and they will brighten anyone's day.  Join us for such funny Songs like Icky Sticky and Ooey Gooey and The Elephant Song and some songs to warm your heart, like Peace In My Fingers and Swimming to the Other Side.  
Then we will take a winter break and return in the spring to prepare a musical version of "Make Way for Ducklings." So if you know any ducklings who would like to be in it, please contact me, at
[email protected]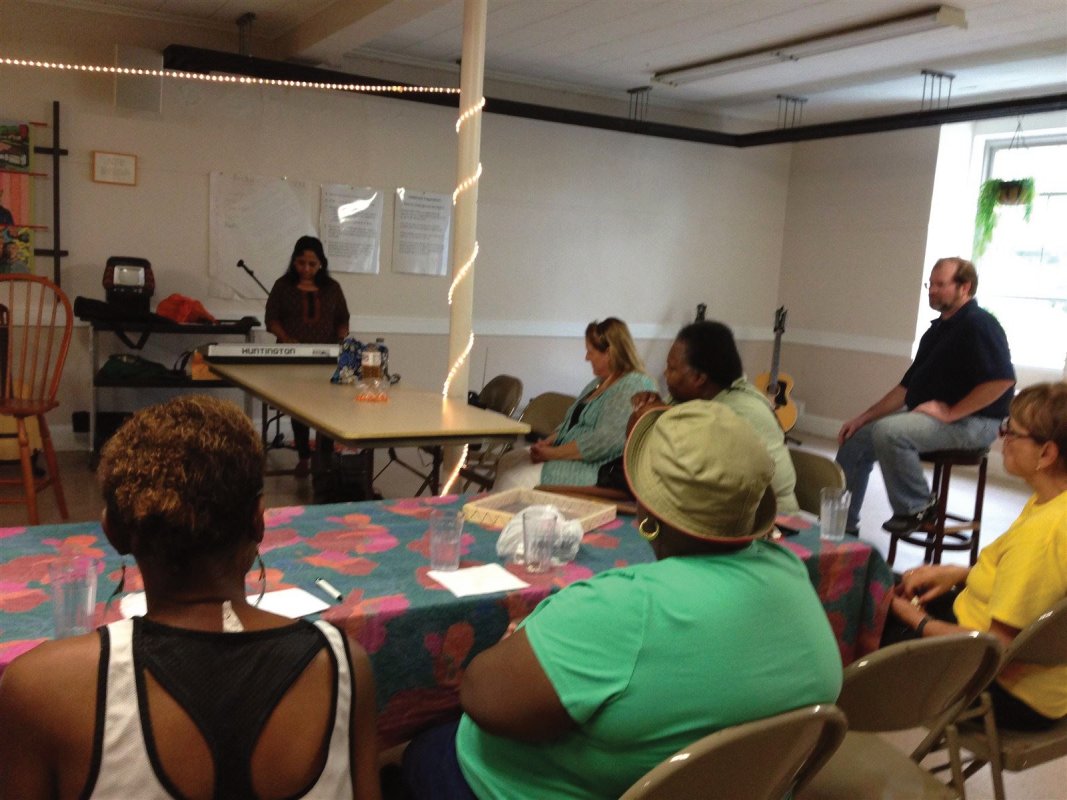 Bridges Coffee House and Open Mic was once again a fun, heart-opening time with new friends: Tulip, Amy, Ken, Ruby, Kafelte, Marcie, Lewis---all of whom I would not know except by coming to Bridges.  There were other longtime friends too: Dusty, Lydia, Ivy, Charron, Carol...The setting is relaxed, the conversation and performing is interactive, and you just come away feeling closer and glad you were there. Moments of faith and doubt, hardest moments, best moments, favorite oldies and sing-alongs, original songs, poetry, story-telling, what we're reading---all enrich our lives for the coming month.  You missed it this time, but maybe you'll come next time, or the next.  Be part of it. Be surprised!  Every Second Saturday, 3:00-5:00, First Congregational Church of Amherst Dining Room. Next one is October 10th.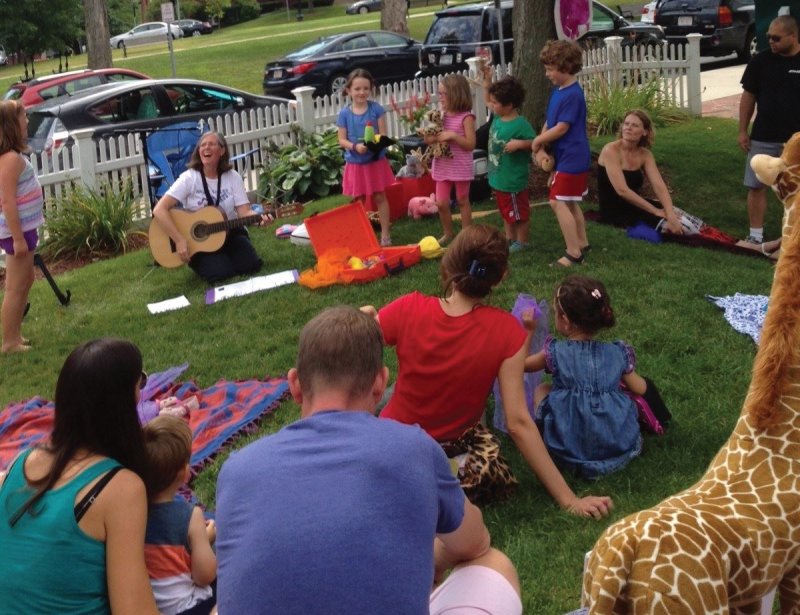 Summertime fun shouldn't stop at the end of summer!  In August, Dorothy took her Curious Songs and Stories down the road to South Hadley and the Odyssey Bookshop Family Entertainment program.  Together we sang songs, solved riddles, asked questions, learned facts, and played with a wide selection of puppets and props. We danced, signed, and brainstormed together about why  pigs can't fly, and then sang the true story of one who did! "Freeway the High-Flying Pig" wrapped up the show.
Dorothy loves songs, always has, always will. Songs she learned as a child still encourage her, lift her spirits, and help her make connections with others.  
So, she offers the Happy Valley Children's Chorus to help the next generation of kids have a rich repertoire of songs to carry them through, this year and always. If your child loves stories and songs, and would like to make new friends through story and song, contact her to join the Happy Valley Children's Chorus. They meet on Mondays, 4-5:00 in the center of Amherst, MA.  Running Sept. 21st through Nov. 30th, with a performance on Sunday, Dec. 6th, you too could be part of the fun. Contact Dorothy at
[email protected]
It is mid-June, and I slow down to breathe.  My seasons have been somewhat scrambled this year, with preparing the soil, fertilizing, and planting in the winter and seeing the fruit of my labors this spring. 
The Happy Valley Children's Chorus held it's "Songs of Hope" concert in May. Kindergartners through 4th graders learned 9 songs, sang solos, and even choreographed a couple songs for their performance.  I plant the seeds, the children add their sunshine, and a beautiful concert of youth and hope emerges. At the end they all received their yellow caps, and we sang Mama Mac's yellow cap song:
"Wake up in the morning, jump out of bed.
Put my yellow cap on my head.
Makes me feel happy, makes me feel strong.
Makes me want to sing the whole day long.
Got my yellow, yellow, yellow cap! Got my yellow, yellow, yellow cap!"
Also this winter I felt the stirring of a new seed that wanted to be planted. "What if...?" a voice in my head would whisper each morning as a I woke up. Finally I jotted down my ideas, took this photo and sent it to our local community TV station, Amherst Media. I proposed a new children's program, "The Curious Giraffe Show." Having never done anything like this before, they were very supportive, glad to add to their programming for kids.  Thanks to their guidance, their skilled team, and the students training there, the dream came into reality this week!  After months of planning, interviewing kids for the show, filming, and editing, our first three episodes are on the air! They can now be shown via any community TV station or anytime, anywhere by just clicking on these links. Relax and enjoy the show...
Episode 1:
Episode 2:
Episode 3:
I wonder what the summer will hold? 
Oh, yes, well a couple gigs are coming up...perhaps that is the harvest. 
July 4th I'll add family music to the Amherst Farmer's Market in the center of town.
August 15th I will take my "Curious Songs for Curious Kids" program to the Odyssey Bookstore Children's Section in South Hadley, MA. Hope to see you there, and that you will join in the song.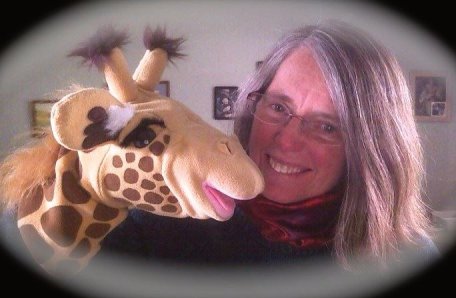 The Curious Giraffe Show:
For Curious Kids of All Ages
Coming to you soon! This new project grew out of the "Curious Songs for Curious Kids" CD and songbook, published last year.  There is a song where a curious giraffe asks lots of questions.  Whenever I've taught that song the audience comes up with more questions and more verses! This may seem like a show for younger kids, but our cast includes kids from six to twelve years old, so it will have a wider appeal.  The intention of the program is: (1) to bring a kids from a variety of backgrounds together, and (2) to use stories, songs, and interviews to discuss our questions and learn more from each other and local resources. 
We have recorded the first two episodes at Amherst Media, our local community TV station. Here are the questions that have come up so far: Why do some folks have plenty, and some some never have enough? What can help? Why don't more people realize that real beauty is on the inside, not on the outside?   These are not simple questions, but these are thoughtful kids.  They will let us know where their questions want to go. Maybe the adults will take time to listen!
When the episodes have been edited and credits added, we will launch this new program. I'll let you know when you can tune in, if you are in the Amherst, MA area. Or a link will be provided for those farther away. There will be the opportunity for viewers  to send in their questions and observations, too.  Aren't you curious to tune in?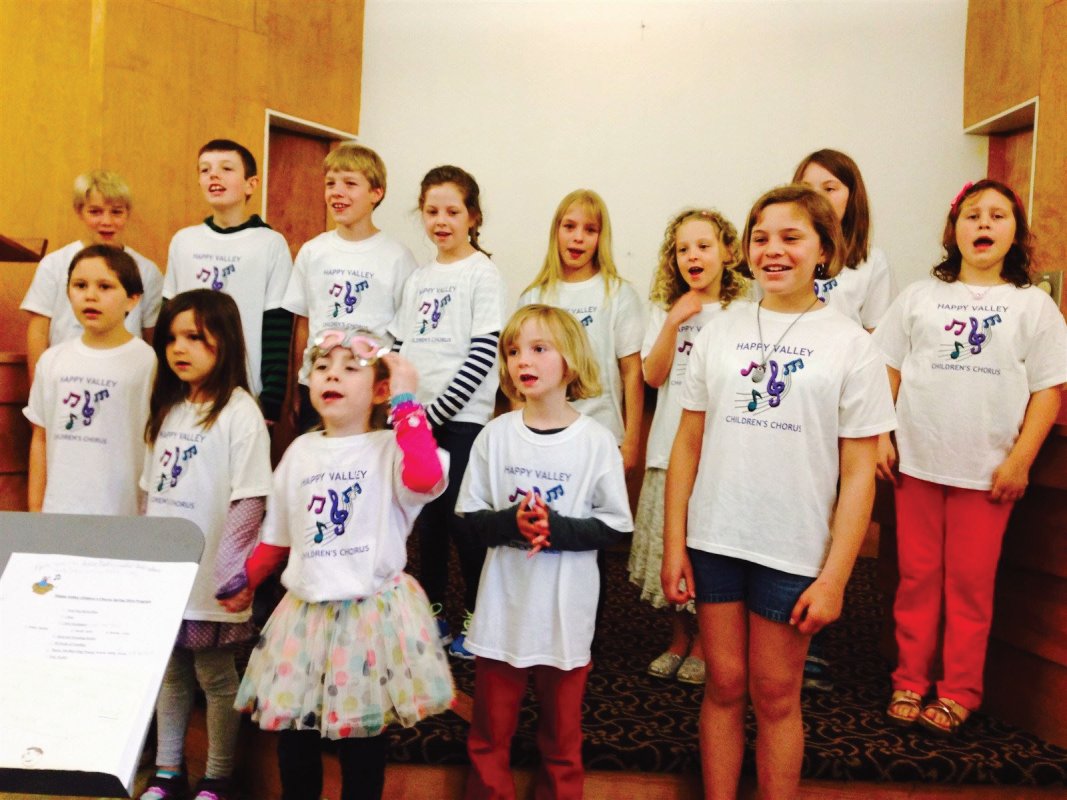 It is almost time for the next Happy Valley Children's Chorus Concert! This session we have 18 kids, ages 5-12, excited to share the Pete Seeger songs they've been learning.  (The photo at the side was last spring's group.) The concert will be held at the:
First Congregational Church of Amherst, 
165 Main Street, Amherst, MA 01002.
Dec. 7th, at 1:30 PM
Some of the selections are familiar to the whole wide world, and some are rare finds pulled from Pete's own "Singalong Memoir: Where Have All the Flowers Gone." Every song will feed and strengthen their souls for a lifetime. 
This is why I do the chorus. In my experience the songs we learn stay with us, encouraging, lifting us, carrying us all the way through life. So I take my time choosing our repertoire. Some songs are gentle, some songs are peppy, but they all provide sustenance for the lifetime journey. Pete's songs have hope and they have courage, and they create community. 
So many of us love to sing, and singing is something one can do anywhere, anytime. But it is so much more fun to do together! That feeling of blending one's single voice with a whole group of others is like diving into the rush of a river. The full sound of many voices raised together in song is a natural high! 
Singing and movement go together. Our performance will include some sign language, some choreography (created by a third grader!), and a rousing dance from the Middle East!
Following our planned selections, the children who choose to will offer solo performances of favorite songs that they have learned outside of chorus. This will be the surprise part of the show!  We hope many will join us and encourage this next generation of singers.
What a journey it has been to making a dream come true.  Sometimes you can wish upon a star and that's all it takes. But sometimes you have to work quite hard, step by careful step, keeping that star in your sights. 
That is what the path has felt like in writing and recording "Curious Songs for Curious Kids," my new collection of original songs and story-songs, which is coming out this week!  The CD and songbook can be used as a set, or purchased separately. The songbook is for those who like to have lyric sheets, chords, and sheet music.  The set is a great encouragement for young readers to become more fluent, and for older readers to also learn how to read music!  I have provided chords and fret charts so that anyone, adult or child, can pick up a guitar and begin to  strum along. The music in the songbook has a clear melody line, but those who would like the music in two-part harmony can contact me via this website.
Throughout my lifetime songs have been my way of making sense of the world, and of sharing meaningful experiences.  During my 30 years in the classroom I often wrote a song to teach a concept, or help us talk through a difficult challenge.  Over the years these songs became part of the school culture.   I was frequently asked if I had a recording or if the music written down so that families could sing them at home.  Alas, I had never learned how to write out the music, and I didn't have the time to make a proper recording.  
So, as one of my first projects in retirement, I have spent the long winter months learning how to write music!  The songs which have been in me can finally go out into the world and be shared.  Then, as I focused my attention on recording the tried and true favorites (Grandmother Tree, All Kinds of Families, Freeway the High-Flying Pig) new songs jumped into my consciousness wanting to be included. So even for my old fans there will be some surprises, like "The Squashmuck!"
These songs include messages of inclusion, celebrating diversity, loving our planet and each other, speaking up, loving and loss of a pet, family adventure, and more. On many of the songs the Happy Valley Children's Chorus and even my grandchildren join in on the choruses.
This has truly been a dream come true to create a CD and songbook of original music.   So spread the good news. I intend to keep it affordable, and want to get them out there to friends of children,  families, grandparents, teachers, and song-leaders of all stripes. So I am asking $10/CD. At the end of the week I will be able to determine the cost of the songbooks, I will let you know the songbook/CD cost too.  
Here is a preview of the CD: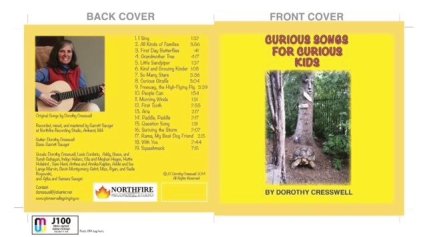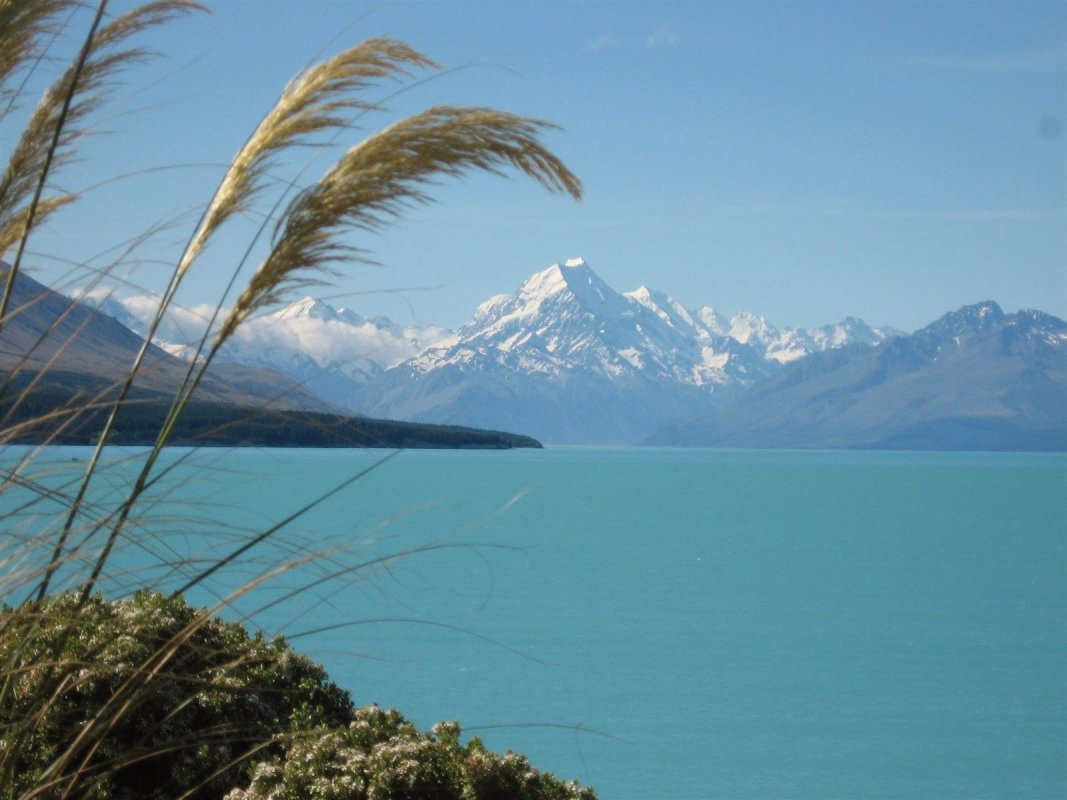 Today we are happy to announce Helen Fortier's brand new CD of healing, encouraging music called, "I Still Believe."  
In her own words:
   "You know I still believe in goodness, in kindness, in angels, in people, the way it's meant to be..."  
"I am really excited announce my CD  I Still Believe. This solo CD   is hopeful and inspirational, but also about hard times, longings, and looking for the better way to live. The songs are about walking in the light of Spirit through the difficulties that constantly cross our paths, all the while holding a vision together for a peaceful planet. 
There is a long story behind it that began in 2002 and ended in 2014!     Some of these recordings were  unfortunately lost. My life and career changed.  When I got back to the project several years ago, I recorded new songs and mixed  it all together.  I want to say now that I am really happy with the final version even if it took  12 years!  I want to send it out into the world  as another source of comfort,  of connection with Spirit. Send it out to heal and to express feelings of struggle, of joy, hope, and of unity
. 
"Let our voices sing over it all as we hold this vision strong.. I Still believe in goodness" Helen Fortier 
Cost  $15/one or to $12 each/2 or more
     Five years ago the wind of the Spirit blew over the water and a seed was carried to my lap. Over the five years since the healing circle singers started, we have shared a journey of challenges and blessings.  It has been a continual showing up and letting go, letting go and showing up, and witnessing the blessing of simply being there for others.  Others who turn out to be there for you, too.  Others who sing, whether they "can" sing or not!  Others who sound beautiful in the amazing sound that rises, so much more than any one of us could sound like alone!
     So, the wind blew, the seed was carried, and the roots have gone down for five years.  Now, behold, the seed is sprouting up, ready to be seen and discovered beyond the downstairs room where we have gathered.
     This seed has pushed up shoots, grown blossoms and now the fruit is ready to be shared this Thanksgiving morning.  We want to share the harvest on this powerful day of Hanukah and Thanksgiving merging.  The Great Miracle, the Great Giving of Thanks, both honoring God's abundant grace in our human lives.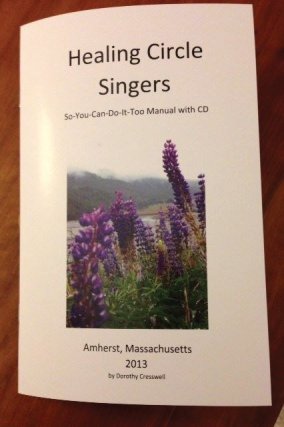 So with the same awe and joy, we offer the world our new little manual that explains how we've done our healing circle of song.  You may do yours quite differently, but this can help you get started.  We've included a CD of nine healing songs by Helen Fortier, six which have never been recorded before. There are lyrics and chords, and suggestions of ways to center your gathering.  Affordable, at $10 a copy, we are hoping to spread the good news far and wide. That's why we called it the: "So-You-Can-Do-It-Too" Manual!
/